Grant: 22-011E
Project Title: Sea Turtle Educational Signs
Project Manager: Amy Beach
Organization: Beach Junki (Non-profit Organization)
Grant Amount: $2,900.00
Completion Date: 2022-11-16

Summary: This project will involve the installation of 19 sea turtle educational signs at public beach accesses within the City of Fernandina Beach on Amelia Island, Nassau County, Florida. No sea turtle education signs currently exist at City accesses. Signs will be installed at the City's most frequently used accesses. The signs will include important information about sea turtle conservation practices related to keeping our beaches clean of trash, dark, and safe for sea turtles. Amelia the Sea Turtle serves as a visual form of public education emphasizing the global impact of marine debris and most importantly, its effects on sea turtles. Beach Junki is a small non-profit organization that educates local residents and visitors about the beach and sea turtles. This project is an extension of the earlier public awareness project and will bring Amelia the Sea Turtleís initial message and more to an expanded demographic at multiple locations within Nassau County.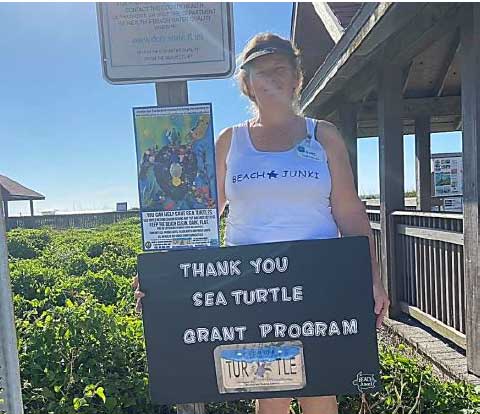 Results: Due to money saved as a result of a change in the proposed installation process (existing posts were utilized in lieu of purchasing 19 posts), STGP the purchase 50 signs instead of 20 as requested in the original budget proposal. A total of 48 sea turtle educational signs were installed at high traffic public beach accesses within the City of Fernandina Beach. 2 signs have been reserved for replacements. The sign unveiling event and first beach cleanup was held on May 28, 2022. Volunteers signed in and listened as our Director recognize STGP as the funding agency and promoted sea turtle awareness. Litter was removed from the beach by 17 volunteers (Exhibit 1) Participants completed our survey designed to evaluate the effectiveness of the event and sign. A total of 3 beach cleanup events have thus far been organized with a total of 36 participants who learned about sea turtles and the STGP. These volunteers were eager to learn how to protect nesting sea turtles. We rented the city marquis to promote 2 of 3 cleanup events. The survey was completed by 10 participants at the initial event consisted of 5 questions about our sea turtle education signs. We updated our website to include STGP information, a direct link to the STGP website and a link to provide information on how to purchase a sea turtle license plate. Our events and thank you announcements were made on our website and shared with the community via social media.