Grant: 19-031R
Project Title: Green Turtle Seasonal Movements and Group Behavior in Florida's Big Bend
Project Manager: Richard Herren
Organization: Sea Turtle Conservancy (Non-Profit Organization)
Grant Amount: $27,600.00
Completion Date: 2022-03-30

Summary: In the Florida Keys, green turtles have showed signs of herding or coordinated movements over seagrass habitat. It's possible this also occurs in the Big Bend during warmer months (MayĖSeptember), however, it's unclear how frequent juvenile green turtles actually associate with each other. This project will use telemetry to determine migratory movements of juvenile green turtles due to changes in water temperatures and investigate localized group behavior during the spring, summer and fall. ARGOS satellite transmitters will be placed on 6 juvenile green turtles that are captured at four different sites in the Big Bend in fall 2019. Their movement patterns will be analyzed using state-space models and ArcGIS spatial analysis tools. Vemco acoustic mobile transceivers will be placed on 6 juvenile green turtles also captured at four different sites in the Big Bend in late spring 2019. The mobile transceivers will record interactions between turtles during the summer and be retrieved in the fall. The results will help explain large scale seasonal movements as well as small scale group behavior that may be impacted in the future by climate change and the loss of habitat.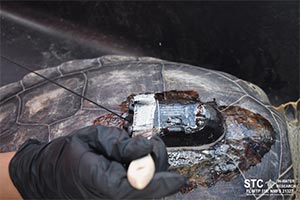 Results: The goal of this study was determining juvenile green turtle seasonal movements in the northern and southern Big Bend. Since over-wintering research on green turtles in this region had not been done before, we deployed six Lotek Argos K2G 276A Dive tags in 2019 and, when those were successfully tracked, another 17 Argos and GPS tags in 2020. We directly attached satellite transmitters to the carapace of juvenile green turtles using NMFS and FWC guidelines. Twenty-two of 23 juvenile green turtles were successfully satellite tagged and tracked over a period of two to nine months (96%). We obtained fall, winter, and spring tracks on the majority of satellite tagged turtles (82%). All turtles that left their original capture site in the late fall-winter, and were successfully tracked into the spring, returned to their original capture site. One green turtle left Florida entirely during the winter and showed up in Cuba, where, after a month of residence there, the tag ceased transmitting. Our attachment method was very successful and there was evidence that it did not have long-term effects on the turtles. This work provides important information for protected species managers on the seasonal migration of green turtles during the winter months.