Grant: 19-020C
Project Title: Endoscopy Equipment for Sea Turtles
Project Manager: Dr. Julie Cavin
Organization: Gulf World Marine Institute (Non-Profit Organization)
Grant Amount: $22,941.90
Completion Date: 2020-03-09

Summary: Gulf World Marine Park (GWMP) has been conducting sea turtle stranding response and rehabilitation activities along the Gulf of Mexico coast in the Florida Panhandle since the 1970s. Gulf World Marine Institute, Inc. (GWMI) is the non-profit sector of the organization that was created in 2012 to continue these permitted activities. GWMI staff respond to reports of live stranded sea turtles, conduct rehabilitation activities, and are permitted for tag and release operations. GWMI will purchase endoscopic equipment that will facilitate exams, treatments and surgeries for sea turtles undergoing rehabilitation at Gulf World. The equipment will greatly improve the care and potentially decrease the time to release for certain cases.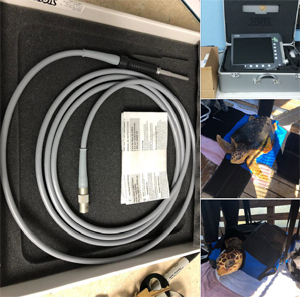 Results: As of November 14, 2019, there have been no cases for which rigid endoscopy would have been beneficial. However, Dr Cavin has held an informal training session for the veterinary staff as she has previous experience with the machine.