Grant: 19-019C
Project Title: Sea Turtle Stretchers
Project Manager: Secret Holmes
Organization: Gulf World Marine Institute (Non-Profit Organization)
Grant Amount: $1,600.00
Completion Date: 2019-12-03

Summary: Gulf World Marine Park (GWMP) has been conducting sea turtle stranding response and rehabilitation activities along the Gulf of Mexico coast in the Florida Panhandle since the 1970s. Gulf World Marine Institute, Inc. (GWMI) is the non-profit sector of the organization that was created in 2012 to continue these permitted activities. GWMI staff respond to reports of live stranded sea turtles, conduct rehabilitation activities, and are permitted for tag and release operations. GWMI will purchase two new sea turtle stretchers that are necessary to transport medium to large turtles. The only current stretcher is worn and in need of replacement. Additionally, large turtles are often able to maneuver their front flippers out of the straps. The design of the new stretchers includes two additional straps to combat this problem. With new stretchers, all activities involving the transport of these medium to large turtles will be conducted more efficiently and safely. Through this grant, operations that benefit both State and Federal sea turtle program goals will be enhanced.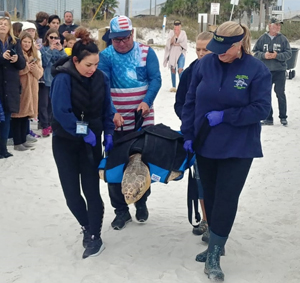 Results: The project has been completed, and two sea turtle stretchers were purchased from Custom Marine Canvas. All invoices have been paid. The stretchers have been used for transport during releases and to aid in movement around the rehabilitation facility.