Grant: 19-004C
Project Title: Implementation of onsite X-ray diagnostics at the Sea Turtle Hospital at UF Whitney Laboratory
Project Manager: Catherine Eastman
Organization: University of Florida - Whitney Laboratory (Research and Educational Institute)
Grant Amount: $16,695.00
Completion Date: 2019-12-03

Summary: Funding from the Sea Turtle Grants Program will implement advanced imaging for sea turtle treatment at the Sea Turtle Hospital at Whitney Laboratory. This project actively leverages a donation made to the hospital. The Sea Turtle Hospital Suite received a partial equipment donation of a Computed Radiography unit. The project will complete the x-ray system to enable Whitney Lab to routinely take x-rays on-site to improve patient safety and care by eliminating multiple transports previously required to a veterinary office 30 + minutes away. To have x-ray services at the Hospital, the project will complete the diagnostic base with the purchase of the x-ray generator. This equipment will be essential for the evaluation and treatment of the more than 45 critical case sea turtles that we care for each year FP and other critical impacts.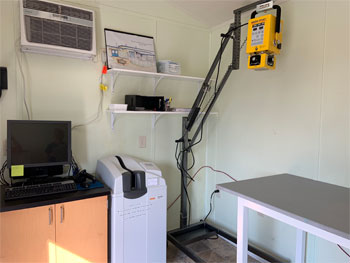 Results: Since the purchase of the x-ray generator and personal protective gear, hospital staff have registered the equipment with the Department of Health Radiation Control, had it inspected, and have begun implementing it with all patients and strandings. The x-ray equipment came online once inspection was completed on September 24, 2019. Since September, staff have been trained on the equipment and are using it as a diagnostic on each stranding/ patient we receive. Once case of particular interest was "Edward Scissorhands" who was admitted on October 8, 2019. This patient was buoyant and after intake x-ray staff observed significant gas in the GI. The second day Edward was at the hospital he began defecating large amounts of plastic. Staff were able to x-ray frequently during his first 48 hours to monitor the progression of that plastic and gas and keep close watch for blockage. Another patient that the use of x-ray was critical upon intake was "Dumbo" who was admitted on September 28, 2019. Dumbo was caught by a fisherman and was immediately admitted. Upon x-ray, Hospital staff was able to visualize the location of the hook. Since this was an after-hours case, the Veterinarian came in immediately to remove the hook. Recovery was smooth and Dumbo was released, and after one FP tumor removal surgery, on October 16, 2019. After a short time of being operational, the x-ray system has greatly improved our diagnostics and level of care immensely. By bringing x-ray diagnostics onsite, we have a full picture when a new patient is admitted real time. This has improved our diagnostics and communication with our veterinarian who is not always onsite. We have been able to triage emergencies and patients who need to be seen immediately.