Grant: 16-042E
Project Title: Providing Sea Turtle Educational Experiences for Students in Coastal, Low-Income Schools
Project Manager: Joy Winet
Organization: Brevard County Environmentally Endangered Lands Program (Florida Government)
Grant Amount: $16,753.00
Completion Date: 2017-11-08

Summary: The Barrier Island Sanctuary Management and Education Center (BIC) has a responsibility to provide environmental education opportunities to facilitate continued conservation of sea turtles into the next generation. Demand for Sea Turtle Academy, our second through fourth grade field trip program, exceeds what can be accommodated without continued grant support for a part-time Sea Turtle Educator. Funding from Sea Turtle Grant #15-033E has already resulted in a nearly 300% increase in Sea Turtle Academy programs at BIC and an over 400% increase in visits from low-income elementary schools designated as Title 1. Students have shown a significant learning gain resulting from this program through pre- and post-test analysis. Through this project we will continue this effort to provide access to sea turtle education for students from schools identified as Title-1. The Sea Turtle Educator will also fulfill requests for outreach programs at community events and specifically target low-income schools for classroom sea turtle outreach opportunities.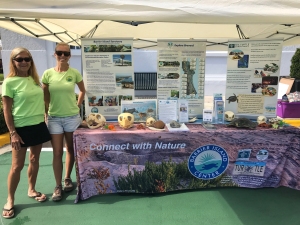 Results: Our grant funded sea turtle educational activities were also presented at the National Marine Educators Association's 2016 conference and at the Archie Carr Working Group Meeting November 16, 2016. Title Slides are included in supplementals, acknowledging Sea Turtle Grant Program funding. Our outreach display, STA booklet, and Turtle School pamphlet also all acknowledge the Sea Turtle Grant Program. Our Sea Turtle Educator and Staff developed a pilot K -1 "turtle school" program, the lesson plan is included in supplemental pages as is the in-house printed take home pamphlet. Despite early Hurricane Matthew related setbacks, our Sea Turtle Educator and BIC staff instructed 137 sea turtle education classes from September - May the bulk of which are from low-income schools, we maintained our increased ratio of visitation by low-income schools during the 2016-2017 school year. Our Sea Turtle Educator and BIC Staff have participated in 24 classroom STA visits and an additional 22 outreach opportunities from September - May. Our initial data analysis of pre- and post-tests administered to Sea Turtle Academy students using the CPS clickers has shown a learning gain (p <0.001, n = 289 students) from a mean score of53.75% to 69.47%.