Grant: 16-024E
Project Title: Archie Carr Refuge Education and Conservation Program
Project Manager: Donna Lee Crawford
Organization: Sea Turtle Conservancy (Non-Profit Organization)
Grant Amount: $15,931.00
Completion Date: 2017-06-06

Summary: The Barrier Island Center (BIC), jointly operated by Sea Turtle Conservancy (STC) and Brevard County, is the public focal point for the Archie Carr National Wildlife Refuge and Brevard's barrier island habitats. The BIC hosts daily visits as well as summer programs that focus attention on the seasonal nesting of sea turtles. Because of the area's importance to sea turtles, special emphasis is placed on raising awareness about these species, threats to their survival, and what the public can do to help. Programs conducted at the BIC are generating community awareness about the importance of conservation and ecology of sea turtles, and the overall health of the local coastal environment. By raising awareness about sea turtles, STC and the BIC are instilling a strong sense of personal responsibility for these animals and all coastal resources. This project will continue STC's effective stewardship-building activities at the BIC through A) Conducting Coastal Lighting Stewardship Trainings; B) Hosting daily school group visits (including Title I schools) and conducting a popular summer Eco-Camp for children; and C) Expanding Community Stewardship Workshops for local residents and tourists who visit this part of Florida's coast.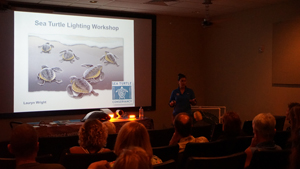 Results: A new brochure, Florida's Sea Turtles and Beaches, was created and printed and will be an excellent educational resource for visitors of the Archie Carr Refuge. Content includes: reproductive cycle of sea turtles; threats to sea turtles; Florida's common species with images to identify each as hatchlings, adults, by their tracks, weight, size, coloration and their nesting and hatching seasons; beach etiquette during nesting season; ecology of Florida's beaches and the importance of keeping them dark and natural to protect nesting habitat; and how you can help save sea turtles. Environmental events and presentations to develop community education and stewardship for coastal conservation in the Archie Carr Refuge offered. Eco-Explorers Summer Camps were filled with more than half as returning campers and the balance new children, both local and visiting. Field experiences included kayaking, paddle boarding and seine netting to explore the ecosystems of the Indian River Lagoon; and snorkeling, surfing and a guided sea turtle walk to encounter the elements of the Atlantic Ocean and make observations of sea turtle nesting behaviors and research in the Archie Carr Refuge. Campers gained an understanding for the relationship of healthy habitats to the survival of marine life and took action conducting beach and island clean ups to contribute to a more sustainable environment. Overall, the camper pre/post surveys indicated a significant increase in knowledge of local ecology, the area's global importance to sea turtles, the future impacts of climate change and sea level rise and how they can help protect sea turtles and other marine life and their habitats as young stewards of coastal conservation. Sea Turtles Dig the Dune stewardship workshop was conducted in February, 2017. Coastal communities and residents planted 4,000 sea oats to protect sea turtle nesting habitat in the Archie Carr Refuge. Sea Turtles Dig the Dark stewardship workshop was held March, 2017. Coastal communities and residents learned the elements that make up night sky and wildlife friendly lighting and simple solutions to retrofit their properties with the latest technology for maximum efficiency and safety for all.