Grant: 16-019E
Project Title: Promotion of sea turtle conservation in Walton County, Florida through the production and distribution of education materials and the presentation of educational activities/programs
Project Manager: Beth Coppedge
Organization: Friends of South Walton Sea Turtles (Non-Profit Organization)
Grant Amount: $9,200.00
Completion Date: 2018-04-17

Summary: Our organization will produce and distribute the following print materials in Walton County: (1) #CleanDarkFlat window cling and postcard for distribution to beachfront motels/condominiums/rental properties (postcards will also go to individuals), and (2) sea turtle activity book for distribution to elementary schools and school-age attendees of our education programs/event booths as well as visitors to the Tourist Development Council visitor center. Additionally, through a variety of educational presentations and awareness programs, our organization will inform the public about sea turtles that nest in Walton County, the obstacles they face and what individuals can do to protect sea turtles whether they live in the area or are just visiting.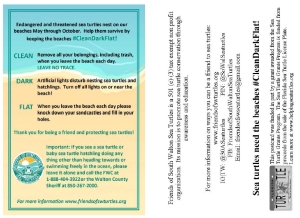 Results: Friends of South Walton Sea Turtles (FOSWST) delivered 6,500 educational Activity booklets to every K-5th grade student all public schools in Walton County in May 2016. Throughout the months between May to December 2016, volunteers also distributed clings and postcards to local area hotels, condominiums, and rental agencies. Because of this effort, over 60,000 postcards and clings were circulated throughout the South Waton communities during this period. The Volunteers Beach Ambassador Program is one part of our multi-pronged approach to furthering our mission of promoting sea turtle conservation through education and awareness. Volunteer Beach Ambassadors, when wearing their t-shirt, interact with the public in a positive and friendly way, while they are on the beach, stationed at a regional beach access or even while they are out around town. By wearing the shirt, the public knows that they can approach the Ambassador with their questions whether about local restaurants, shore birds or sea turtles.