Grant: 16-003C
Project Title: Reclaim Our Coasts Program: Increasing the Quantity and Quality of Florida's Beaches for Sea Turtles
Project Manager: Dr. Karen A. Bjorndal
Organization: University of Florida - Archie Carr Center for Sea Turtle Research (Research and Educational Institute)
Grant Amount: $10,000.00
Completion Date: 2017-11-29

Summary: Extensive coastal development in Florida has resulted in reduced accessibility to nesting habitat and/or deterrents to nesting turtles. These obstacles may be temporary or more permanent in nature and are wide ranging in their potential impact on nesting turtles and hatchlings. To improve sea turtle access to Florida beaches and reduce hazards for nesting sea turtles and hatchlings, we will implement a "Reclaim Our Coasts" program that will work towards the removal of barriers where possible throughout the state. During the first year of the program we will select a pilot site for barrier removal. The pilot site will be Bald Point State Park or an approved alternative site, based on feasibility and cost of obstacle removal.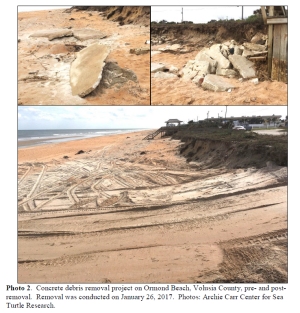 Results: Due to the estimated expense to remove the Gulf Shore Blvd derelict road debris located in Bald Point State Park and the reduced grant funds received, we requested and received approval to use grant funds for other barrier/debris removals around the State. Sea Turtle Grant funds were used to remove 1) Hesco barriers at New Smyrna Beach and dune revegetation, 2) concrete debris from Ormond Beach, 3) derelict stranded boat on Little Gasparilla Island, and 4) reconnaissance trip to Cape San Blas, as potential debris removal site, and 5) continued planning for Bald Point State Park derelict road debris removal. All completed barrier removals have been geo-referenced, photographed, and archived in an Excel database. Potential barrier removals reported to us are also included in the database.