Grant: 15-034R
Project Title: Southwest Florida loggerhead rookeries as long-term collaborative tagging experiment
Project Manager: Kristen Mazzarella
Organization: Mote Marine Laboratory (Non-Profit Organization)
Grant Amount: $9,035.00
Completion Date: 2017-04-12

Summary: Three loggerhead rookeries of Southwest Florida have ongoing tagging projects of 29 years or more (Casey Key, Manasota Key, and Keewaydin Island). Passive Induced Transponder (PIT) tagging commenced in 2000 on Casey Key and in 2007 for Manasota Key and Keewaydin Island. These projects employed PIT tagging for its benefits of superior tag retention, in addition to standard double tagging with Inconel flipper tags. This project will continue an ongoing long-term collaborative tagging experiment by three Southwest Florida loggerhead rookeries to improve estimates of survivorship, recruitment, tag loss, and nest site fidelity during remigration interval after the 2012 record loggerhead nesting year. The project will provide a pool of PIT tagging resources (PIT tags and replacement scanners) to be allocated regionally.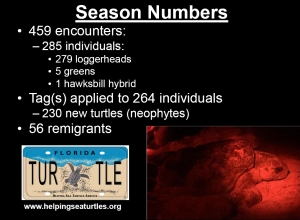 Results: In 2015, PIT tags were applied to 235 nesting turtles on Casey Key: 224 neophytes (including three green turtles) and 11 remigrants; 92 nesting turtles (including 6 green turtles): 73 neophytes and 19 remigrants (3 of which received a 2nd PIT) on Manasota Key; and 67 nesting turtles: 64 neophytes and 4 (8) remigrants on Keewaydin Island. In 2016, PIT tags were applied to 341 nesting turtles: 312 individuals neophytes and 11 remigrants on Casey Key (3 neophytes received 2 PIT tags), and 18 others with no history received PIT tags; 208 nesting turtles: 162 neophytes and 38 remigrants (9 received a 2nd PIT, 1 received a 3rd) on Manasota Key; and 79 nesting turtles: 66 neophytes and 13 remigrants on Keewaydin Island. High fidelity females: In 2015, 44 remigrants from Casey Key were seen again on Casey Key, 25 Manasota Key remigrants were seen on Manasota Key, and 35 Keewaydin Island remigrants were seen on Keewaydin Island. Low fidelity females: Five turtles originally tagged on Manasota Key were seen on Casey Key, while 14 turtles originally tagged on Casey Key were seen on Manasota Key. One Casey Key remigrant was seen on Keewaydin Island. Additionally, one Casey Key tagged turtle was found dead on Manasota Key. The exchange between the two close proximity sites, Casey Key and Manasota Key, may indicate high site fidelity to a location in between the two sites. However, the turtle nesting on Keewaydin, at approximately 90 miles away as the crow flies, would indicate lower site fidelity.