Grant: 15-026E
Project Title: Broward County Public Beach Access Sea Turtle Informational Signs
Project Manager: Courtney Kiel
Organization: Broward County (Florida Government)
Grant Amount: $8,546.00
Completion Date: 2017-03-27

Summary: This project aims to design, produce, and deploy permanent informational sea turtle signs at priority public beach access locations throughout Broward County. Content will focus on beach habitat threats and conservational efforts to inform residents on safety precautions that should be taken during nesting season. Durable outdoor signs will measure 24" x 36", be in full color, and target beach residents and visitors in both English and Spanish. The Florida Fish and Wildlife Commission and Sea Turtle Conservancy will be consulted for approval of the final design, and the Florida Department of Environmental Protection will be consulted for sign placement when needed.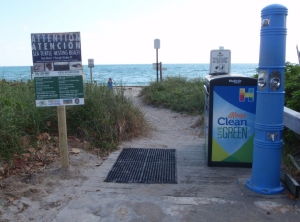 Results: Materials were purchased for the manufacture and installation of 35 educational signs with posts. Due to increased costs for the posts and installations, we were only able to produce 35 signs instead of the 60 that were initially budgeted for. As a result, we request that the budget be modified to reflect the cost of the manufacture and installation of 35 signs only, as specified in the attached Expense Report. Unspent funds will be returned to the grants program. To date, a total of 21 educational signs have been installed at public beach access points in the following municipalities in Broward County: Pompano Beach, Lauderdale-By-The-Sea, Hollywood, and Hallandale. Photos documenting the sign installations are included with this final report. During installations, the public was very receptive to the signs which stimulated some constructive conversations about sea turtle conservation; we are optimistic that the signs will continue to educate visitors and residents who visit the local beaches. One problem that was encountered during this project was that some beach accesses were under construction at the time of installation. To resolve this, we worked with the municipalities to delay installation at these locations until construction is complete. The extra signs have been offered to the municipalities for future install at additional public beach accesses; several locations have expressed interest, but would like to wait until the public has time to provide feedback about the signs before installing more.