Grant: 15-016R
Project Title: Assessment of multiple sand sources used in beach nourishment
Project Manager: Robert Robbins
Organization: Palm Beach County (Florida Government)
Grant Amount: $12,843.50
Completion Date: 2016-08-22

Summary: As restorative measures become increasingly necessary due to erosion, construction, and rising sea level, the potential impact to marine turtle nesting habitat is magnified. Beach nourishment, dune restoration, and seawall construction alter critical habitat necessary for the health of loggerhead, leatherback, and green turtle populations utilizing South Florida beaches. Palm Beach County Environmental Resources Management oversees multiple beach restoration projects annually. As the need for these measures rises, it becomes increasingly difficult to find suitable borrow areas to use as a sand source. Offshore borrow areas are typically utilized; however, the sand found at these sites must fit specific requirements to be suitable for sea turtle nesting habitat. Additionally, these sources are becoming scarce, less suitable, and costly to access. Alternative sources, such as sand from inland mines, are being used for numerous projects. Anecdotal evidence from several recent projects suggests that some of these sand sources alter the incubation environment. Mined sand proposed for two upcoming projects has been used in recent years and sea turtle surveyors report an increase in incubation times, likely due to color variations and therefore lower temperatures. This has the potential to alter sex ratios and nest success; however, surveyors have reported increased hatch success. It is crucial to understand the balance between suitable hatching environment and the potential for skewed sex ratios. Offshore borrow areas tend to have a larger component of grain sizes that are far larger or far smaller than native sand, greatly altering the ability to retain and release moisture and allow for proper gas exchange. In addition, the color tends to differ from native sand. This project will utilize data loggers and sand testing to assess temperature, humidity, grain composition, color, and carbonate content to determine the effects of various sand types, particularly of the increasingly popular mined sand. Palm Beach County ERM has the unique opportunity to test the mined sand in addition to sand from two offshore borrow areas, sand dredged from an inlet maintenance event, as well as native sand in a single season. These variables will be compared to nest evaluation results to determine impact on incubation period, hatch success, and emergence success. The results will help determine the suitability of multiple sand sources used on a frequently nourished stretch of one of the most densely nested beaches in Florida.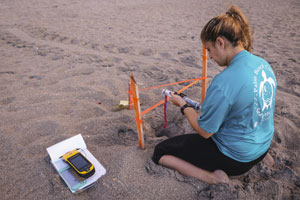 Results: The initial season of data collection was successful. Data loggers were used to monitor five different beach restoration projects and four different sand sources. At the request of the grant committee, we have partnered with an outside organization to handle the statistical analysis of data. Dr. Tiffany Briggs (FAU Department of Geosciences) and PhD student Julie Cisneros performed data analysis and have incorporated this project into Julieís PhD dissertation to look at the effects of sand source, temperature, beach nourishment, and beach profile on sea turtle nesting. Because the data loggers are reusable, the intent is to continue the use of this equipment over the course of several years. We continue to work with Julie on data analysis as well as publication of findings. The initial findings will be summarized in a paper and conference presentation this year (see attached email). Data loggers have been deployed in five different treatments and control areas for the 2016 nesting season.