Grant: 07-013C
Project Title: Increasing Surgical Capacity of the Sea Turtle Rehabilitation Hospital
Project Manager: Charles Manire
Organization: Mote Marine Laboratory (Non-Profit Organization)
Grant Amount: $22,300.00
Completion Date: 2007-10-17

Summary: The Sea Turtle Rehabilitation Hospital at Mote Marine Laboratory and Aquarium has been increasing its capacity for rehabilitation patients over the last few years and has recently begun taking turtles affected by fibropapillomatosis (FP) to aid the other two facilities in the state that already handled those cases. The purpose of this project is to purchase a CO2 laser system to improve the treatments of marine turtles affected by FP as well as aid in other surgical procedures. The introduction of the CO2 laser has revolutionized the treatment of FP (Mader, 2006) as it permits surgeries with less hemorrhage and less pain and actually shortens the rehabilitation period for which the turtles must be hospitalized. This will then increase the number of marine turtles that can be rehabilitated in this hospital, increase the number of marine turtles that can be released, and thereby, aid the recovery of the populations in the wild.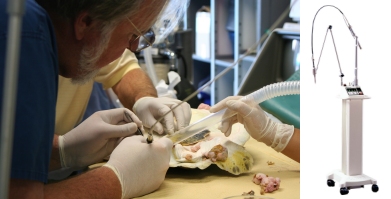 Results: This project involved the purchase of a single C02 laser system. This laser system was to be used for surgical cases in the Sea Turtle Rehabilitation Hospital, especially for turtles affected by fibropapillomatosis. An AccuVet 20 Watt laser system was purchased from Lumenis, Santa Clara, CA through Butler Animal Health Supply, Chicago, IL. The system has already been used for several turtle surgeries, including one flipper amputation and tumor removal on four fibropapilloma turtles. In addition to the cases at the Sea Turtle Rehabilitation Hospital, it has been used for several fibropapilloma turtles from Clearwater Marine Aquarium as well. It is a welcome addition to the surgical arsenal that reduces the pain and hemorrhage associated with surgery in sea turtles. (Author: Charles Manire)