Grant: 06-006E
Project Title: Junior Marine Biologist Program Expansion
Project Manager: Leslie Figg
Organization: Loggerhead Marinelife Center (Non-Profit Organization)
Grant Amount: $4,200.00
Completion Date: 2006-10-31

Summary: The Loggerhead Marinelife Center will expand its Jr. Marine Biologist Program to include children in grades 2-12, include three additional weeks of programming to total eight weeks, and revise our current program curriculum. This program has proven to be a great way for us to further the goals of the FFWC Marine Turtle Protection Program. Throughout its nine-year history, the Jr. Marine Biologist Program has engaged approximately 1000 students ages 11-15 in hands-on learning about sea turtle conservation, biology, ecology and rehabilitation. We seek to add programming for younger students, grades 2- 4, in addition to the already served audience of grades 5-9. In addition, we will add a Summer Internship opportunity for students in grades 10-12. Using the materials created with the 2002-2003 Sea Turtle Grant funds as a guide, we seek to create a revised curriculum to include information for students in grade levels 2-9, and a Summer Internship Handbook for the participant interns. The funding requested is for development of the revised student curriculum, the Internship Handbook, and personnel costs involved in staffing the expanded summer program.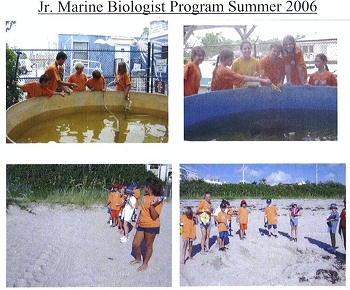 Results: The following tasks were completed as part of the project: 1. Expand the Jr. Marine Biologist Program to broaden the age range served and increase participant numbers - We expanded both participant numbers and the age range served - in 2005 we had 120 students 11-15 years old; this year we had 160 students in grades 2-9; 2. Development/revision of curriculum and the handbooks printed - We streamlined and updated the curriculum taught to the 7th - 9th graders. We developed new curriculum for grades 2nd - 3rd and 4th - 6th. The student handbooks are included in this report package. We added many things to the program this year, including: daily journaling, coral reef activities, a sand lab, as well as starfish dissections and talks on "Current Issues Facing Marine Turtles" for the 7th - 9th grade students; 3. We expect students to come away from the program with a deeper understanding of Florida's marine turtles and the current conservation issues they face today - Students were asked to journal about each day's activities and the turtle patients under our care. We also included a section in their handbooks titles "Current Issues" where they read articles about long lining, fisheries legislation, marine reserves and artificial reefs. Students were assigned an article and presented their article summaries to the group. We made charts of suggestion solutions related to each article; 4. Students will learn ways they can help protect marine turtles and learn how to put their plans into action in their homes, schools and communities - We brainstormed ways we could prevent future injuries to turtles including recycling our trash at home, organizing beach clean-ups with our schools or scout groups, starting a recycling program in our school and learning more about sea turtles by attending educational programs at the Marinelife Center; and 5. Actively encourage the purchase of the sea turtle license plate by students and their families - This was accomplished throughout the summer program by word-of-mouth and by printed material in the student handbook. (Author: Leslie Figg)