Grant: 04-026R
Project Title: Establishing Plasma Biochemical and Hematocrit Reference Intervals for Sea Turtles in Florida
Project Manager: Dr. Elliott Jacobson
Organization: University of Florida - College of Veterinary Medicine (Research and Educational Institute)
Grant Amount: $25,003.00
Completion Date: 2007-04-10

Summary: Federal Recovery Plans required for each species of sea turtles listed under the US Endangered Species Act call for the development of integrated health assessment programs. In response to this need, in February 1998 and October 2000, two workshops were convened by the National Oceanographic Service to address the need of an integrated health assessment program. Subsequent to these meetings, faculty from different colleges at the University of Florida [(College of Veterinary Medicine, Archie Carr Center for Sea Turtle Research (CLAS), College of Medicine and the Center for Marine Animal Health (Whitney Lab, CLAS)] developed a multidisciplinary proposal titled New Initiative for Health Assessment of Endangered Sea Turtle Populations. With funding from the University of Florida Opportunity Funds, one of our objectives was to develop optimum methods for the collection, transport, and biochemical analysis of plasma. Over the last 3 years we have been working toward this goal. Given the paucity of information on normal reference intervals for plasma biochemicals of sea turtles, we are now in a position to develop this database. Based on many years of combined experience, we believe that sea turtles caught in the canal system of Port St Lucie Plant, Jensen Beach, Florida, afford us a unique opportunity to build a database that could be used for assessing health of sea turtles throughout the state of Florida and elsewhere in the world. Multiple interactions can be studied including size (age), sex, season, and water temperature on blood biochemical profiles. While green and loggerhead sea turtles are the most common species caught in the canal system, there also is an opportunity to develop a database on plasma biochemicals of hawksbill, Atlantic ridley and leatherback sea turtles. Injured and ill turtles are also trapped and these turtles can followed until their release from rehabilitation facilities. As part of this study, a webpage will be constructed where findings will be continually updated as they become available. In this way, plasma biochemical reference intervals will be available to the worldwide community of sea turtle biologists, sea turtle rehabilitators and veterinarians working on health problems of sea turtles.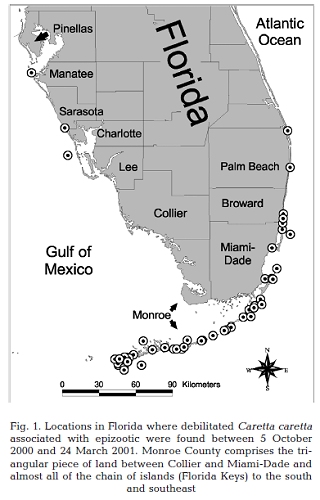 Results: Neurological disease in wild loggerhead sea turtles Caretta caretta published in Diseases of Aquatic Organisms, Vol 70: 139-154, 2006.