Grant: 04-016C
Project Title: Installation of a Geothermal Heating System for Rehabilitating Kemp's Ridleys and Other Sea Turtles
Project Manager: Jack Rudloe
Organization: Gulf Specimen Marine Lab (Non-Profit Organization)
Grant Amount: $20,330.00
Completion Date: 2005-03-02

Summary: To accommodate more turtles on a year round basis, an outdoor shed at the Gulf Specimen Marine Laboratory that covers a large outdoor tank must be replaced. Outdoor tanks, which are either in a plastic dome building or under open sheds, are used in the summertime to hold turtles, but not in the winter. By increasing the size of the existing heat exchanger and modifying the plumbing in the outdoor system we will also be better to maintain turtles undergoing rehabilitation after hook removal. Such tanks will provide exposure to natural sunlight, and normal photoperiod. During hard freezes, the heated outdoor tanks will be covered with plastic floating pool cover to retain warmer temperatures, allowing turtles space to breathe. Sunlight will be an additional benefit of the outdoor tanks. Sea turtles maintained indoors even with UV enhanced artificial lighting designed for maintaining aquaria, tend to darken over periods of time. A more natural setting is likely to improve recovery of the turtles and may also facilitate their passing ingested hooks.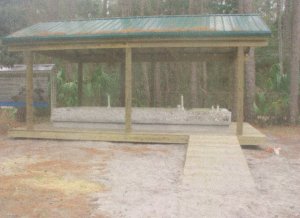 Results: During the first 6 months of the grant the new water storage sump tank went on line and electrical service were be upgraded. The tasks of design engineering and consulting, raising outlying tank C-6 and replacing the sub gravel, a new roof being installed, and the heat exchanger plates being added were completed during the second 6 months of the grant. Once completed, the project was publicized with lectures, membership letters and a press conference. (Author: Jack Rudloe)