Grant: 04-015E
Project Title: Printing of Educational Materials
Project Manager: Suzi Fox
Organization: Anna Maria Island Turtle Watch (Non-Profit Organization)
Grant Amount: $4,946.00
Completion Date: 2005-09-12

Summary: This project is designed to increase awareness of the importance of eliminating beachfront lighting that is harmful to nesting sea turtles through brochures, posters, stickers to attach to light switches in beachfront rental units and bumper stickers. The brochures will be placed in beachfront rental units. The light switch stickers will be put on light switches that control beachfront lighting so that anyone checking into a unit where beachfront lighting could be an issue is informed of the damage they could do to our nesting sea turtle population. The posters will be placed in restaurants, at the public beaches and in businesses around the Island so that residents, visitors and transients alike will be exposed to educational information relevant to sea turtle nesting beaches.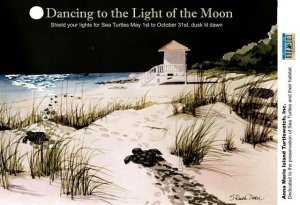 Results: We received grant money to design and purchase informational brochures, stickers that tell people the light may disrupt sea turtles and posters telling people to reduce beach lighting. Volunteers distributed these materials to local rental companies, government offices and restaurants. Posters are also given to each person who attends a sea turtle walk and to each teacher in our local schools. (Author: Suzi Fox)