Grant: 18-041C
Project Title: Boater Voluntary Speed Reduction Zone for Sea Turtle Conservation
Project Manager: Hannah Campbell
Organization: Loggerhead Marinelife Center (Non-Profit Organization)
Grant Amount: $46,000.00
Completion Date:

Summary: Loggerhead Marinelife Center (LMC), in collaboration with the Archie Carr Center for Sea Turtle Research at the University of Florida and the FrameWorks Institute, aims to decrease harmful interactions between sea turtles and boaters through the development of a Voluntary Speed Reduction Zone (VSRZ) in offshore waters from Jupiter Inlet to Lake Worth Inlet, Palm Beach County, FL. Each year, tens of thousands of sea turtles migrate to Palm Beach County to lay their eggs where more than 40,000 vessels are registered in the county (FLHSMV 2017). As such, vessel strikes have become a significant threat to sea turtles in the area. Approximately 20% of all reported stranded turtles in Florida have evidence of previous vessel strikes (Foley et al. 2017). The VSRZ project to reduce this threat is being conducted in four phases. The VSRZ project is divided into four phases. Phase I is pre-implementation baseline data collection on boater speeds, activity, and attitudes towards sea turtle conservation and was completed in March 2018. Phase II (this funded grant) will develop a messaging strategy, based on empirical research by FrameWorks Institute, to increase boater understanding of the issue and obtain their compliance with a VSRZ while traveling in critical sea turtle internesting habitat. Phase III is the implementation of the best messaging strategy determined during Phase II. And Phase IV is the post-implementation evaluation of the VSRZ. Success of the overall project will be measured by a reduction in vessel strikes to sea turtles in the area. Initial indicators of success will be a decrease in boat speeds within the VSRZ and change in boater attitudes.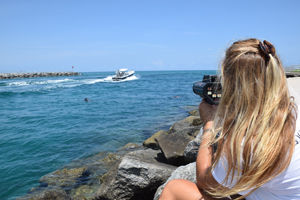 Results: