Grant: 17-047E
Project Title: Dark Sky, Dark Beaches: A Statewide Lighting Program for Classrooms
Project Manager: Rebecca Mott
Organization: Inwater Research Group (Non-Profit Organization)
Grant Amount: $5,000.00
Completion Date: 2018-10-05

Summary: Many school-aged students who live in Florida are aware that we host three species of sea turtles each summer for nesting season. What few realize, however, are the impacts a large human population, and subsequently our lighting, has on this process. Inwater Research Group (IRG) will develop a statewide traveling trunk program dedicated to educating 3rd-8th grade students about the plight of sea turtles and beachfront lighting/skyglow. Trunks will contain a four-lesson module that takes students through activities that discuss Florida's sea turtles and their nesting habits, electricity and light energy, engineering a light fixture, and testing the efficacy of different light fixtures through data simulation. Each lesson will be hands-on, integrating Science, Technology, Engineering and Math (STEM) as well as literacy and language arts. The lessons will challenge students with Model Eliciting Activities (MEA's), which have students step into real world scenarios and problem solve an open-ended question while dealing with constraints. By placing students in multiple roles throughout the lesson (as engineers, biologists, homeowners, citizens, etc.), and having them problem solve, they will become more invested in the issues, as they will see them from multiple angles. This type of approach will help instill a sense of responsibility based on sound information.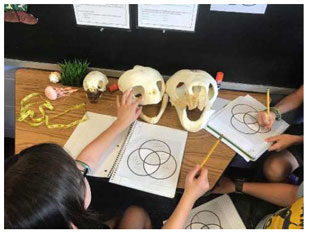 Results: While we had one organization that had trouble getting the program up and running in their area, we found the majority did not and reported with successful numbers. Each partner reported positive feedback from their teachers (see attached survey responses), especially Navarre Beach. Their teachers loved the inquiry-based learning it provided and Navarre Beach staff hopes to develop similar programs of their own in the future. For those organizations who found it tricky getting the program out to their schools, we are currently working with them to remedy this. We have offered to present at teacher workshops and have provided extra materials to help them spread the word. Since creating the program, we have had other organizations reach out to us regarding purchasing a trunk of their own.