Grant: 17-027C
Project Title: Improvements to Quarantine System
Project Manager: Cypress Rudloe
Organization: Gulf Specimen Marine Lab (Non-Profit Organization)
Grant Amount: $16,435.21
Completion Date: 2018-03-20

Summary: Gulf Specimen Marine Laboratory and Aquarium has been rehabbing sea turtles for many years. Located in the Florida Panhandle, we work primarily with adolescent Kemp's ridley sea turtles. In 2014, we adopted and implemented the Responsible Pier Initiative, partnering with the Loggerhead Marine Center in Jupiter, Florida. This highly successful program educates the public on how to care for sea turtles caught on piers. This program prompted a large increase in the number of sea turtles brought into the aquarium, placing new demand on our current facilities. Prior to this program, we successfully rehabilitated 13 sea turtles, mainly Kemps ridleys. In 2015, the number increased to 18, with already another 18 so far in 2016 that were rehabilitated and released back into the wild. For our facility this is record numbers. Earlier this year, we raised necessary funds to install six new quarantine tanks to meet this new demand. These tanks have state-of-the-art filtration that consist of protein skimmers, charcoal filters, bag filters, and ultraviolet sterilization system. Each tank has its own filtration preventing cross contamination amongst other quarantined sea turtles. We also installed heater systems to these tanks to prevent trauma from extreme cold. While we are well-prepared for the cold, we are not prepared for the extreme heat. As global warming continues we expect to deal with increasingly high temperatures each year. We are challenged to maintain cooler temperatures in the quarantine tanks during the summer. By using heavy-duty, commercial fans we are barely able to maintain 85 degrees Fahrenheit, which is the maximum temperature at which sea turtles should be held according to the Sea Turtle Hand Book. The goal of this project is to install chillers on each of the quarantine tanks that will provide full control of temperature. Maintaining an ideal, temperature-controlled environment that will hasten the recovery process, and provide the turtles an expeditious return to the wild.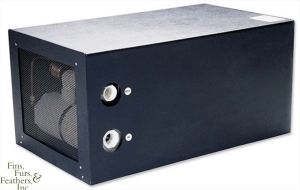 Results: Six Aqualogic Delta Star chillers: including pvc materials and electrical wiring were installed on six quarantine tanks. They are fully functional, and have the capacity to maintain the desired temperature. A press release was sent out through constant contact to all of our members and media contacts to inform the public about the generous grant that was awarded to us by the Sea Turtle Grants Program. A press release was sent out via Constant Contact informing the public and the media about our receipt of the grant from the Sea Turtle Grants Program.