Grant: 16-041C
Project Title: Surgical CO2 Laser for FP Tumor Removal
Project Manager: Bette Zirkelbach
Organization: Hidden Harbor Marine Environmental Project (The Turtle Hospital) (Non-Profit Organization)
Grant Amount: $16,479.50
Completion Date: 2017-03-14

Summary: The Turtle Hospital has been rehabilitating sea turtles with Fibropapilloma (FP) for nearly 30 years and is one of only a handful of facilities in Florida treating this horrific disease. FP affects over 50% of the green sea turtle population in and around the Florida Keys. The Turtle Hospital has seen an increase in the number and in the severity of FP cases over the past few years. Surgically removing the FP tumors is a critical part of treating FP patients. The CO2 laser is the best tool for this job. The Turtle Hospital's CO2 laser was purchased in December 2005 and is no longer reliable. This laser was last sent out for major repair in July 2014. Currently the Turtle Hospital is doing anywhere from 5 to 15 tumor removal surgeries per week. A new, higher power, reliable CO2 laser will assure seamless treatment of the Turtle Hospital's FP patients.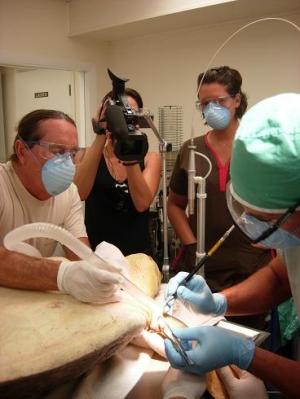 Results: