Grant: 15-034R
Project Title: Southwest Florida loggerhead rookeries as long-term collaborative tagging experiment
Project Manager: Kristen Mazzarella
Organization: Mote Marine Laboratory (Non-Profit Organization)
Grant Amount: $9,035.00
Completion Date: 2017-04-12

Summary: Three loggerhead rookeries of Southwest Florida have ongoing tagging projects of 29 years or more (Casey Key, Manasota Key, and Keewaydin Island). Passive Induced Transponder (PIT) tagging commenced in 2000 on Casey Key and in 2007 for Manasota Key and Keewaydin Island. These projects employed PIT tagging for its benefits of superior tag retention, in addition to standard double tagging with Inconel flipper tags. This project will continue an ongoing long-term collaborative tagging experiment by three Southwest Florida loggerhead rookeries to improve estimates of survivorship, recruitment, tag loss, and nest site fidelity during remigration interval after the 2012 record loggerhead nesting year. The project will provide a pool of PIT tagging resources (PIT tags and replacement scanners) to be allocated regionally.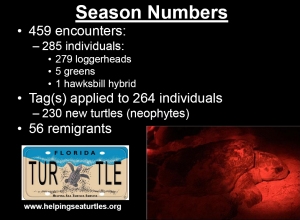 Results: