Grant: 15-033E
Project Title: Expansion of Sea Turtle Education Programs at the Barrier Island Sanctuary Management and Education Center
Project Manager: Joy Winet
Organization: Brevard County Environmentally Endangered Lands Program (Florida Government)
Grant Amount: $13,938.00
Completion Date: 2017-01-27

Summary: Nestled in the heart of the Archie Carr National Wildlife Refuge, critical sea turtle nesting habitat, the Barrier Island Sanctuary Management and Education Center has a responsibility to provide environmental education opportunities to facilitate continued conservation of our sea turtles into the next generation. Demand for Sea Turtle Academy, our second through fourth grade field trip program, exceeds what can be accommodated with our current staffing level, though the facility could comfortably house more study trips. We will employ part-time a Sea Turtle Educator to meet this need as well as expand the accessibility of our program to low income students by providing busing travel reimbursement to schools identified as Title 1. In addition we will print "Jr. Naturalist's Guide to Sea Turtles and the Archie Carr Refuge" booklets for students to work from during the study trips and then use to educate family members at home. Finally, the Sea Turtle Educator will fulfill requests for outreach programs at community events and schools that we currently do not have personnel hours to support. We will also improve our outreach display, by replacing the board and acquiring a table banner, to insure a professional representation of our organization at these events.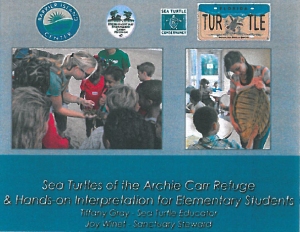 Results: