Grant: 15-027E
Project Title: City of Sanibel's Sea Turtle Lighting Campaign - "After 9, it's turtle time!"
Project Manager: Jason Cull
Organization: City of Sanibel (Florida Government)
Grant Amount: $6,000.00
Completion Date: 2016-06-16

Summary: With occupancy at or near full capacity in 2014 and anticipating the same in 2015, the City of Sanibel is will initiate an educational campaign that will remind residents and visitors that both interior and exterior lighting sources can impact sea turtle nesting and hatching. Specifically, the materials and education campaign will place a renewed emphasis on the potential effects of unshielded interior lighting and will complement existing educational materials that focus on the minimization of impacts from exterior lighting sources. Three strategies will be employed to educate island residents and visitors that "After 9, it's turtle time! Help sea turtles by turning off all unnecessary lights and closing curtains and blinds after dark." This message along with sea turtle imagery will be displayed on 1) lighting stickers, 2) static cling window decals, and 3) elevator decals and distributed to island rental agencies, management companies, and condominium managers. Although most summertime visitors to Sanibel receive some information regarding sea turtles at "check-in", the goal of this program is to provide additional reminders at key locations--light switches, windows and sliding glass doors, and elevators--that helping sea turtles can be as easy as flipping a switch.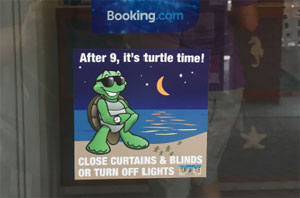 Results: Educational materials were delivered and distributed to rental agencies, management companies, and condominium managers along the beachfront properties of Sanibel Island in April 2015 and again in April 2016. Approximately 63% of the static cling window decals, 89% of the elevator decals and 47% of the lighting stickers have been distributed throughout the island. We will continue to distribute materials through this nesting season and future nesting seasons. 4 surveys have been completed by property managers, rental agencies, and management companies. 34 surveys have been completed by visitors and residents of Sanibel. Despite a relatively small number of completed surveys, the survey responses have been generally positive and informative. In response to the question, "Did the 'After 9 it's turtle time' stickers/decals help to remind you to turn off lights or close the curtains/blinds after dark?", 38% of the respondents answered "yes, otherwise I would have forgotten". The property managers found the sticker and window clings to be most useful however, the elevator decals were not as well received with the size of the decal being a major factor. According to the survey responses, the window cling is the product