Grant: 15-012C
Project Title: Service plan for the Sea Turtle Rehabilitation Hospital Laser at Mote Marine Laboratory
Project Manager: Gretchen Lovewell
Organization: Mote Marine Laboratory (Non-Profit Organization)
Grant Amount: $6,900.00
Completion Date: 2017-09-20

Summary: This project will allow Mote Marine Laborator to purchase a 3-year service plan for the LuxarCare Aesculight used by the veterinary staff at Mote Marine Laboratory Sea Turtle Rehabilitation Hospital. Currently, there is a 1-year plan in place. This laser is used in the removal of fibropapilloma tumors for turtles undergoing rehabilitation and the service plan will ensure that there is a functional laser at Mote Marine Laboratory for the duration of the plan.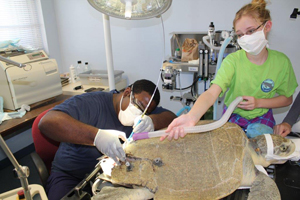 Results: The laser plan was finalized on 18-October-2015 and will expire on 17-October-2018. Given the frequency that the laser is used, this service plan has afforded Mote Marine Laboratory's Sea Turtle Rehabilitation Hospital valuable insurance that we will be able to continue our high-level of treatment to sea turtles in our care. This equipment is especially critical in our rehabilitation efforts with sea turtles affected with fibropapilomatosis. Since the plan has been instituted, the laser has been used to perform 18 surgeries.