Grant: 15-006R
Project Title: Research vessel for in-water assessment of juvenile sea turtles in the Indian River Lagoon
Project Manager: Dr. Kate Mansfield
Organization: University of Central Florida (Research and Educational Institute)
Grant Amount: $15,700.65
Completion Date: 2016-09-15

Summary: Since 1982, the University of Central Florida's Marine Turtle Research Group (MTRG) has conducted a long-term assessment of juvenile marine turtle population structure and abundance in the Indian River Lagoon System (IRL). This is among the longest, continuous in-water studies on wild-caught neritic juvenile sea turtles in the world. Study objectives includes (1) documenting the species and population structure of immature marine turtles utilizing this area as developmental habitats; (2) monitoring for changes in relative turtle abundance over time; and (3) monitoring the relative condition of the turtles including the prevalence of Fibropapillomatosis over time (Ehrhart 1983; Ehrhart and Redfoot, 1992; Ehrhart and Redfoot 1995; Ehrhart et al. 2007; Hirama and Ehrhart 2007). The MTRG conducts sampling trips twice a month in the IRL, just south of the Sebastian Inlet. Turtles are captured for this study using two, 228 m tangle nets and three research vessels (one larger "work-up" boat, and two smaller "net tenders"). Our research vessels are close to 40 years old and in disrepair; the cost of annual repairs exceeds basic operating costs and safety of students and researchers is now a concern. This project has historically been under-funded, supported by donations, volunteers, and hand-me-down equipment. Data from this project provides state and federal managers with important information on the relative health and population of loggerhead (Caretta caretta) and green (Chelonia mydas) sea turtles. Our project also provides researchers from other institutions and agencies with hard-to-obtain samples (blood and tissue), and has provided documentary film crews with footage to raise public awareness of Florida's imperiled marine turtles and conservation efforts. We also host on-site visits from visiting researchers, students, conservation VIPs, international delegations, among many others, resulting in a broad public impact. To continue our work and ensure consistency in data collection over time, new boats are needed. This project will allow MTRG to purchase a new 17 foot "net tender" boat.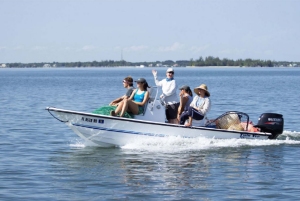 Results: